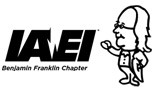 Electrical Student Award Program
WE WOULD LIKE TO EXPRESS OUR DEEP APPRECIATION FOR BILLOWS ELECTRIC SUPPLY WHO GENEROUSLY DONATED THE GIFT CERTIFICATES FOR OUR 2023 AWARDEES!
Electrical Student Award Program Mission Statement:
Promote the skilled electrical trades as a career path for students actively engaged in an accredited electrical-related vocational/technical school program, recognize and reward exceptional student performance and commitment in electrical-related vocational/technical school programs, and promote the continuing education and networking benefits of membership in and participation in the programs of the International Association of Electrical Inspectors.
The Chapter is promoting the electrical industry as a rewarding career choice and is therefore providing help for the students who are preparing to enter the electrical industry as a career path. The student selected by the classroom instructor will be invited to attend an IAEI chapter dinner meeting at no cost, be recognized by our chapter, and receive a framed certificate of achievement. The student will also receive a $200.00 gift certificate to use toward the purchase of hand tools, training materials, or other items for their personal use. The certificate gift will be paid for by an IAEI donor and provided by Billows Electric Supply.
You can help us continue this valuable program by submitting a tax-deductible donation in any amount to the BFC Foundation Inc. Additionally, all sponsors receive a framed certificate of appreciation for supporting our program and will be recognized at our awards presentation.
Online donations may be submitted below